But will there be enough midwives to go around ?
By Julie Wheldon
Science Correspondent
Daily Mail, 15 May 2006, pages 1, 8 – 9.
Voir la tra­duc­tion de cet article. Il y est ques­tion de l'accouchement à domi­cile, une option sou­te­nue par le minis­tère de la san­té au Royaume Uni depuis le rap­port par­le­men­taire Changing Chilbirth en 1992 (voir his­to­rique). Un rap­port récent a mon­tré que, pour répondre à la demande crois­sante d'accouchements à domi­cile et res­pec­ter ain­si la liber­té de choix des usa­gers du ser­vice de san­té, l'État devrait for­mer envi­ron 10 000 sages-femmes de plus.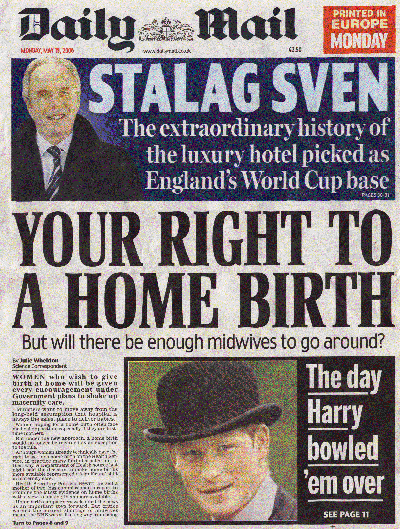 Can the
NHS

really deliver the choice ?
'

It would be a big and a very popular change'

[NHS = National Health Service in the United Kingdom]

Women who wish to give birth at home will be given eve­ry encou­ra­ge­ment under Government plans to shake up mater­ni­ty care.

Ministers want to move away from the long-held assump­tion that hos­pi­tal is always the safest place to deli­ver babies.

Women hoping for a home birth often face medi­cal oppo­si­tion, espe­cial­ly if they are first­time mothers.

But under the new approach, a home birth would no lon­ger be regar­ded as an excep­tion to the rule.

Although women alrea­dy tech­ni­cal­ly have the right to ask for a home birth on the Health Service, in prac­tice many find obs­tacles put in their way. A Department of Health source last night said the deci­sion to make home births more avai­lable repre­sen­ted a 'signi­fi­cant' shift in mater­ni­ty care.

Health Secretary Patricia Hewitt, her­self a mother of two, has com­mis­sio­ned a report to exa­mine the latest evi­dence on home births with a view to making them more avai­lable.

Home birth cam­pai­gners wel­co­med the news as an impor­tant step for­ward. But cri­tics war­ned the cur­rent shor­tage of mid­wives meant the NHS was still a long way from being able to pro­vide such a choice to all pre­gnant women.

Only last week the Royal College of Midwives war­ned that half of all health trusts, wei­ghed down by debt, are not repla­cing mid­wives who leave the NHS.

Giving birth in hos­pi­tal as a mat­ter of course is a rela­ti­ve­ly recent prac­tice.

Up until 1955, a third of babies born to mar­ried couples were deli­ve­red at home.

By 1975 this had plum­me­ted to a mere 3.3 per cent.

The latest figures avai­lable show that in 2004 more than 15,000 babies were born at home in Britain.

This is a 7 per cent rise on the pre­vious year.

Even so, it still repre­sents just 2 per cent of the 716,000 births each year in Britain.

Campaigners believe women face a 'post­code lot­te­ry' on whe­ther they give birth at home or hos­pi­tal.

In many areas a lack of mid­wives res­tricts their choices. Although expec­tant mothers can ask for a home birth, they often find cashs­trap­ped health trusts which are short of staff can­not pro­vide the ser­vices they would need.

Many first-time mothers are also put off home births by hos­pi­tal staff who make them fear they could not cope without an epi­du­ral or could be ris­king their baby's safe­ty by fai­ling to have a full medi­cal team on hand.

Women who have pre­vious­ly had a nor­mal deli­ve­ry without com­pli­ca­tions tend to be more confi­dent in deman­ding a home birth.

In most NHS hos­pi­tals a mid­wife will be res­pon­sible for two or three labou­ring women at the same time.

During a home birth, howe­ver, one-on-one care is gua­ran­teed. It is esti­ma­ted the NHS would need an extra 10,000 mid­wives to pro­vide such care for all women giving birth.

Home births also allow women to move around more free­ly, which has been shown to reduce the risk of nee­ding inter­ven­tion, such as for­ceps, to deli­ver the baby.

The woman is also thought to be more relaxed in her own envi­ron­ment. This often results in a shor­ter labour.

However those giving birth at home can­not be given the stron­gest pain-relieving drugs or an epi­du­ral.

Access to sur­ge­ry in the case of emer­gen­cy is also com­pro­mi­sed.

In one stu­dy, as many as four in ten first-time mothers giving birth at home ended up trans­fer­ring to hos­pi­tal to com­plete their labour.

One in ten who had given birth before also had to go to hos­pi­tal.

The National Childbirth Trust said women were often dis­cou­ra­ged from even consi­de­ring a home birth, even in cases in which it was the best option.

Chief exe­cu­tive Belinda Phipps said more Government sup­port would over­turn the view that began in the 1970s – and was based on fla­wed sta­tis­ti­cal ana­ly­sis – that home births were unsafe.

'It would be a very big step for­ward and a signi­fi­cant change,' she said. 'It would be a very popu­lar move.'

She said the Government would have to recruit more mid­wives, help those who had left to return to the pro­fes­sion and tackle the pro­blem of NHS mana­gers who often wron­gly belie­ved home births are unsafe.

'There will be a gap until these things can start to change but it will be the job of orga­ni­sa­tions such as ours to stay on top of this to make sure it does hap­pen,' she said.

Tory health spo­kes­man Andrew Lansley ques­tio­ned how the overs­tret­ched NHS would cope with extra demand for home births.

He said at least three-quarters of mater­ni­ty units were short of staff.

In some areas the num­ber of home visits mid­wives could make was decli­ning.

'It seems that the Health Secretary Patricia Hewitt lives in an unreal world,' he said. 'If there are not enough mid­wives this is not going to hap­pen.'

'Instead of hin­ting about more ini­tia­tives, she should deli­ver what has been the poli­cy for decades, which is giving women genuine choice.'

A Department of Health spo­kes­man said : 'We are com­mit­ted to offe­ring all women choice of how and where they give birth, and what pain relief is avai­lable.'

She said the Government under­li­ned its com­mit­ment to deli­ve­ring choice in mater­ni­ty ser­vices in its 2005 mani­fes­to, through its National Service Frameworks and in a recent White Paper.

'All these ser­vices will be offe­red within the context of what is safe and cli­ni­cal­ly appro­priate care for each indi­vi­dual woman,' she said.

She said the NHS had 2,500 more mid­wives than in 1997.

The num­ber of stu­dents ente­ring the pro­fes­sion had risen by 41 per cent in the same per­iod.

j.wheldon(arobase)dailymail.co.uk
So was home birth the best option for these two mothers ?
YES
Darja Brandenburg-Antory, 32, is a psy­cho­lo­gist. She lives in Coventry with her hus­band David, daugh­ter Dewi, two, and son Damai, three months. She says :
I had had my first child in hos­pi­tal and although I didn't have a bad expe­rience, I didn't like the cli­ni­cal, soul­less envi­ron­ment.
So when I found out I was pre­gnant again, I chose to give birth at home. Having a baby should be a cele­bra­tion and I wan­ted my son's arri­val to feel that way – spe­cial to us ins­tead of just ano­ther birth in a mater­ni­ty ward.
People often wor­ry that if some­thing goes wrong the baby will be in dan­ger because you aren't in a hos­pi­tal.
If you live very far from a hos­pi­tal then this is a consi­de­ra­tion, but as long as you have a mid­wife with you there shouldn't be a pro­blem.
She should spot any issues long before they become life-threatening, which means you have plen­ty of time to call an ambu­lance. Of course there are risks, but child­birth car­ries risks regard­less of where you have the baby.
My hus­band also belie­ved this to be the best option because all the equip­ment neces­sa­ry, such as moni­tors, can be used at home. He wan­ted to be sure the baby and I would be safe.
The only things you can't have are pain-relieving drugs such as pethi­dine or an epi­du­ral, and if you need inter­ven­tion such as a cae­sa­rean you will have to go into hos­pi­tal.
I went into labour at […] weeks on January 29 this year. Immediately we star­ted to pre­pare the house for the birth, filling a bir­thing pool, pro­tec­ting the floor with plas­tic sheets and ligh­ting aro­ma­the­ra­py candles to help me relax.
My waters broke in the eve­ning and for the next 12 hours my contrac­tions were light. The next day I was able to go for a walk and have a love­ly break­fast with my hus­band and daugh­ter Dewi. There was no sense of panic or stress.
David and I both wan­ted Dewi to be present throu­ghout. I had explai­ned to her what would hap­pen and she was very exci­ted about it all.
Childbirth is an ama­zing, natu­ral thing that chil­dren should be allo­wed to see. There is no rea­son why kids should be left out.
Dewi loved being there. She didn't see the baby coming out but she was in the room the whole time, being loo­ked after by my friend and my hus­band, while the mid­wife atten­ded to me.
As with my first baby, I didn't suf­fer any ter­rible pain and had a very easy deli­ve­ry. At 1.30pm I gave birth to a heal­thy baby boy, Damai, who wei­ghed 6lb 4oz.
I used gas and air, but had no need for any other pain relief. The mid­wife told me it was a text­book home deli­ve­ry.
I was much more relaxed than during my first labour, part­ly because I knew what to expect and because I was at home.
The mid­wife ran me a bath and after­wards we ope­ned a bot­tle of cham­pagne and sat on the couch cele­bra­ting our new arri­val.
We sat there for hours just hol­ding him, and it was won­der­ful to be able to put the baby straight into his cot in his own bedroom. It was the per­fect day.
NO
Angela Howard, 34, is a hou­se­wife in London. She lives with her part­ner Colin Howard, 34, who runs his own busi­ness, and their son Luca, 20 months. She says :
A home birth see­med like the per­fect way to bring my first baby into the world.
I thought it would be much more relaxing to have him in the com­fort of my own house than in hos­pi­tal, which had always see­med like an unna­tu­ral envi­ron­ment to me.
My part­ner Colin and I wei­ghed up the pros and cons of staying at home.
Our main concern was what would hap­pen if some­thing went wrong, but our local hos­pi­tal is just round the cor­ner so we knew that if there were any com­pli­ca­tions we could get there qui­ck­ly.
After consul­ting my GP and mid­wife, I deci­ded to have a pool set up in my front room as the water can help ease the pain of contrac­tions.
By the time my contrac­tions star­ted on the Thursday eve­ning eve­ry­thing was in place for me to have the per­fect home birth.
We cal­led the mid­wife, who came round and gave me an inter­nal exa­mi­na­tion. She said I was in the very ear­ly stages and that she would pop back the next day.
By the mor­ning I was in com­plete ago­ny, but my contrac­tions were still irre­gu­lar, any­thing bet­ween two and seven minutes apart, and my waters had still not bro­ken.
When the mid­wife came back at 6pm my cer­vix was still only 1cm dila­ted.
Thankfully, my waters final­ly broke a few hours later, but the pain was get­ting worse.
Colin filled the pool late on the Friday night, but it didn't make the sligh­test dif­fe­rence to the pain.
Had I been in hos­pi­tal I could have been given pethi­dine, a drug simi­lar to mor­phine, to ease the pain, but you can't have it at home.
All I had was gas and air, but after fini­shing off two canis­ters of gas, I was beg­ging for some­thing stron­ger.
By Saturday after­noon I was com­ple­te­ly exhaus­ted and my dream of having the per­fect home deli­ve­ry had been shat­te­red.
Emotionally I was com­ple­te­ly drai­ned. Forty-eight hours later and still only 3 cm dila­ted, I knew it was time to go to hos­pi­tal. I thought I was going to die.
An hour later I was in hos­pi­tal, where they gave me an epi­du­ral which enabled me to grab a couple of hours' sleep. I was also given a drug to help speed up the contrac­tions.
When I woke up I was rea­dy to push. I was so relie­ved that It would be over.
At 11.56 pm Luca was born, wei­ghing 7Ib 4oz. I was deligh­ted he was safe and well, but too tired to appre­ciate what should have been a won­der­ful moment.
Two years on I am still scar­red by the expe­rience. Now I would serious­ly consi­der adop­tion because I'm not sure I could go through that again.